Hello All! I've been slacking on my blogging for a few days, so sorry about that. It was a pretty good weekend, even with the cold weather we had! Today, I'm also linking up with
Meg
at "Life of Meg" for Mingle Monday!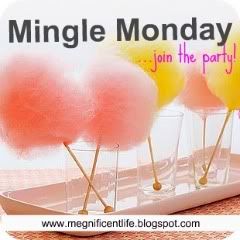 So here was my weekend:
Friday
On Friday, I went home and spent the afternoon with my grandpa. He is in the hospital for pneumonia, so we visited and watched some TV.
Friday night, we went to my cousin's football game, which is also my hometown team, the Jaguars. A big group of our family was there to support him, and a couple of my cousins even made signs for us, which was awesome! I got to visit with a lot of family and see alot of friends, so it was a good night! After the game, we headed downtown for a few drinks and some jukebox music at the bar!
Our family group after the game.
Showing off our signs!
Saturday
On Saturday, Ryan and I headed to Doane College, where he used to play football, for their homecoming football game! We did a little tailgating beforehand with some friends and former players and then watched the game. The Tigers didn't come out on top, but it was still fun. Saturday night, we watched the Huskers play against Ohio State. They started off well, but didn't end up ahead, but I still love my Huskers!
Sunday
On Sunday, I worked, so my day wasn't too exciting. We were steady at the hospital, but not too busy. After my 12 hour shift, I came home for a little while and then got to end my week with Mass, which was very peaceful and refreshing.
I hope you all had a wonderful weekend and I will try my best to be a better blogger this week!
And as for the Mingle Monday weekly question:
** What is the fall fashion trend you are most excited to try out? **
Answer: I really want to find some new stylish boots for fall, maybe like the ones below...