It's time for the last weekend update of 2012...crazy! Linking up with
Sami
and
Leeann
, here we go!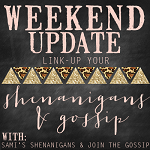 Friday night consisted of a movie date with my husband!


If you haven't seen this movie, it's a good romantic comedy!
Saturday morning, I went to a class at my fitness center and got a good workout in!
Then, it was time to celebrate my cousin's wedding. It was a beautiful wedding, and it was great to see alot of my family! We had a good time dancing and ended the night at Applebee's for late night drinks and appetizers!
The happy couple! Congrats Brandon and Malaina!
Sunday, I spent most of the day on the couch as I am trying to fight a bad cold.
Also, although my family on my dad's side celebrated the wedding of my cousin this weekend, we also lost a great man in our family. My uncle has been fighting cancer since earlier this year, and he lost his battle on Saturday. We will all miss him dearly and will remember him best for being a great musician, awesome cook and just a wonderful guy! We will all miss him very much!