It's Monday morning...struggled getting out of bed, but back to work we all go (or most of us)! Linking up for the Weekend Update with
Sami
and
Leeann
today!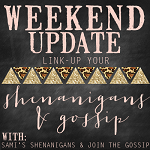 Friday
Friday night was spent at home with my husband catching up on a few shows we had missed during the week. It was a nice relaxing night.
Saturday
On Saturday, I worked during the day and then we had our work Christmas party that night. It was a lot of fun and we had a good turnout!
My wonderful coworkers and I!
Sunday
I worked...again...and it was a long day, but I made it!
Not too exciting for me this weekend, so I hope those of you reading this had a more eventful weekend than me!