Today, I'm joining a new linkup with one of my new blog buddies, Noel Marie at
High Heeled Mama
! I'm linking up with her for Fitness Fridays!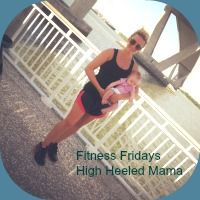 Today, I'm going to talk about what I've been doing lately at the gym to stay fit! At work, we are on week 2 of our Live Well Challenge, so I've been trying to workout every day to keep our team in the running for most activity!
Since I get bored of doing the elliptical or treadmill the whole time I'm at the gym, I recently downloaded a new app on my phone called Workout Trainer.
It is FREE and it has a bunch of different workouts targeted for different areas of your body. The workouts range from 5 minutes to over an hour, so you can choose one for the time frame you have!
During the workout, it tells you how long you are doing each exercise for, gives you photo or video on how to do the exercise, and at the bottom, it shows how far into the total workout you are!
The app also tells you how many calories you've burned!
I think it's awesome, and for most of the workouts, all you need is yourself, so you can do it anywhere!
Anyone else have this app?
Thanks for reading and have a great weekend!